---
PAHO reaffirms commitment to support MEDTROP 2023
.
21/03/2023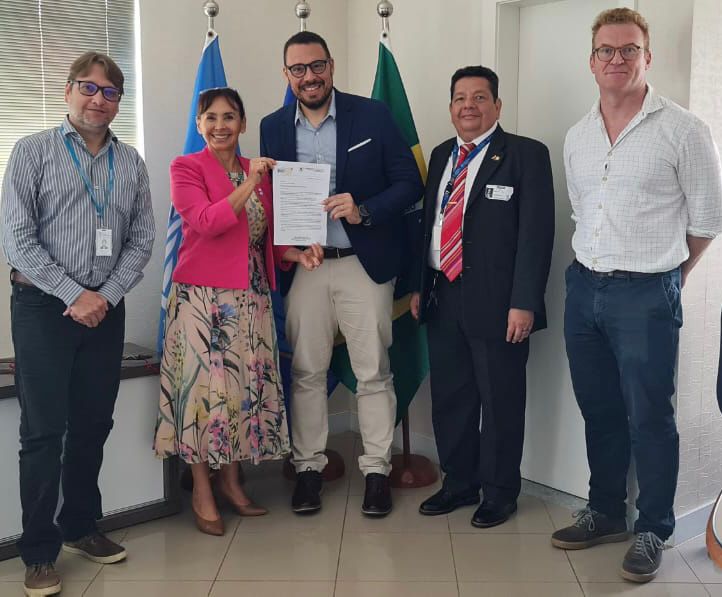 The President of the Brazilian Society of Tropical Medicine (SBMT), Dr. Júlio Croda, met with the representative of the Pan American Health Organization/World Health Organization (PAHO/WHO) in Brazil, Dr. Socorro Gross Galiano, on the morning of Tuesday, March 21. The agenda included the 58th Congress of the Brazilian Society of Tropical Medicine (MEDTROP), which will take place in Salvador (BA) from September 10th to 13th this year, and which has the theme "Challenges for Tropical Medicine in the 21st Century: How to Face Them".
Dr. Croda emphasized that the meeting was once again an opportunity for the PAHO to reaffirm its commitment to support MEDTROP by offering translation services for the workshops that will be held. Dr. Gross also announced with great satisfaction the participation of Dr. Jarbas Barbosa, current director of the PAHO, in a workshop on diseases that are being eliminated in the Americas.
In his inauguration speech, Dr. Barbosa highlighted that the countries of the Americas face a complex epidemiological scenario, with the persistence of communicable diseases, the risk of outbreaks and epidemics, the increasing prevalence of non-communicable diseases, injuries caused by traffic accidents and violence, and the impacts of climate change. In addition, the region faces significant inequalities between and within countries and an accelerated demographic transition in Latin America and the Caribbean.
"We have no doubt that the MEDTROP will be an excellent opportunity to foster debate in search of answers to these challenges and to put health at the center of the development agendas of the Americas," said Dr. Croda.
Also present at the meeting were Dr. Miguel Aragon, advisor on communicable diseases, and Dr. Rogério da Silva Lima, from the Technical Unit on Surveillance, Prevention and Control of Communicable Diseases at the PAHO.